Accessed from Configuration

Preferences

Signatures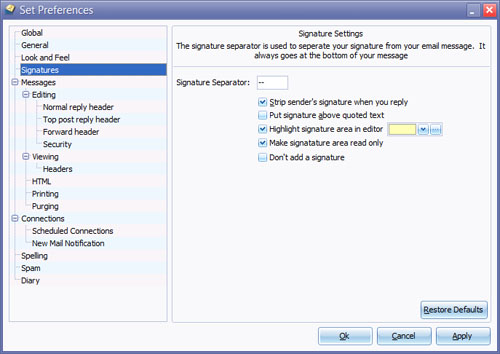 The Signature Separator is the boundary between the bottom of the body of the message (including any quoted text) and the beginning of the signature. The standard form is -- (dash dash space), thus:
This is the last line of the message.
--
This is my signature
Thought provoking quotation or idea here.
Though this separator can be changed, we recommend that you leave it in the standard form as this is used by (properly compliant) mailers to isolate the signature block, and if necessary, remove it.
MailCOPA can strip the sender's signature when you reply, by using the standard form above. Quotes with signatures still in can be annoying.
MailCOPA can also put signatures above quoted text:

--
Your Signature
> Quoted text
> More quoted text

> Quoted text
> More quoted text
--
Your Signature